Broadcasting Wedding Live in Real Time
Once upon a time, not so very long ago, the only guests who could attend your wedding were those who had the means to travel to your chosen venue. Today, everyone can participate in your special day in real time! With a live stream wedding, beloved friends and family who can't travel to witness your vows in person can be there just the same, thanks to the secure event live streaming services provided by New Jersey Videography.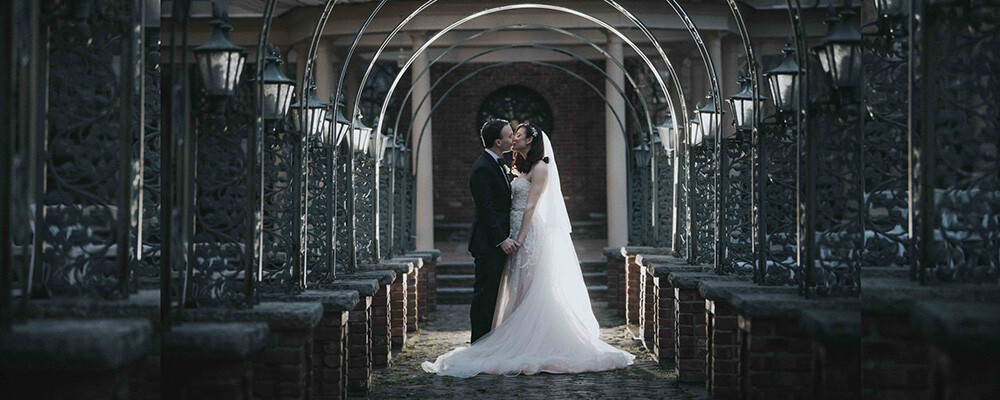 Live streaming wedding services are in demand, and technology has made it easier than ever. Your guests in attendance enjoy the ceremony of your special day, while others join you remotely without interrupting your festivities. A professional live wedding coverage team of expert NJ videographers takes special care to broadcast your wedding live unobtrusively and with a minimum of fuss — because they appreciate what this momentous occasion means to you.
Live Streaming Wedding Services
New Jersey Videography offers a package to suit every budget and every ceremony, no matter how elaborate or simple. The videographers you hire use the best tools available to deliver high-quality results. With their wealth of experience and eye for details, they work to get the best shot every time to make your live stream wedding perfect. Trust your event stream professional to determine when close-ups or long shots are most appropriate to allow virtual guests to feel like they are right there with you.
The services for every live wedding video streaming include:
Wireless microphones
Professional high-definition cameras
Cinematographic eye for detail
Creative filming equipment
You're always welcome to customize the creative live streaming of your wedding. Options include:
Low-priced custom services
Drone technology
Fully edited copies of your event
Unlimited locations
Travel Around the World from Home
Destination wedding streaming is one of the most popular choices for a live stream wedding. Now you don't have to choose between an exciting locale and accommodating your friends and family. Instead of celebrating your big day with just those guests who can afford the travel and accommodations, everyone you know can experience the majesty of your ideal wedding destination — live if not in person.
When you tell NJ Videography to "live stream my wedding," your distant guests only need an internet-connected device to share the event. Groups can gather at home to enjoy the occasion amidst the joviality of a crowd happy to bless your union. Even friends and family who are confined to a hospital can be with you in more than just spirit — a live stream wedding uplifts them as they watch your beautiful ceremony unfold in real time.
How It Works
Before your big day, live streaming companies like New Jersey Videography vet the location you've chosen to ensure an appropriate Wi-Fi connection. The videography team discusses the various platforms for sharing available and recommends the best one for your wedding live coverage. You don't want blips or technical interruptions to intrude on your event.
Depending on how many cameras you employ and whether you want drone video, your videographers map the location in advance to ensure the entire occasion streams to your guests seamlessly. At the appointed time, your remote guests check in. They won't be able to talk to you, but they will be able to listen to the service and watch the wedding live.
Other Considerations
Advance planning is the key to creating the perfect live stream wedding. With proper lighting, camera angles and a seating arrangement profile, your New Jersey videographer can prepare the ideal camera placements. Planning also includes the timing of each segment of your ceremony, so it's recommended that you invite your wedding videographer to the rehearsal.
And while your remote guests may want to participate in the reception, give serious consideration to how your in-person guests may feel about it. It's possible that someone may imbibe too much or get caught in a compromising situation. Out of context, some things may not translate well over a live video production. If you choose to shoot video of more than just the ceremony, remember that live feeds can't be edited.
Live Wedding Webcam Etiquette
Unless you're a celebrity who limits exposure of your personal life, a live broadcast wedding should be reserved for those who can't travel to the ceremony or who are otherwise engaged on your big day. Proper etiquette deems that it's not appropriate to invite some people to the actual venue and provide others with simply a wedding streaming invitation. No one should feel like they are only good enough for a B-list invitation.
Instead, when guests RSVP with a "no," you can email them the instructions — including the unique code and password — for your live wedding coverage with a sincere regret that you won't see them in person. Since you can expect more declined invitations if you plan to leave the country for your nuptials, a live stream wedding notice lets everyone still enjoy your special day. Destination wedding streaming is the perfect solution, because it leaves no one out.
Options Abound
While you want all your invited guests to make it to your chosen venue for one of the biggest days of your life, that's not always possible. Live streaming wedding services, especially for destination weddings, is a perfect way to include all your loved ones on your special day. Additionally, the accomplished cinematographers at New Jersey Videography can also serve as your primary wedding photographer and recording videographer.
Once you've enjoyed the thrill and quality of a professional wedding on livestream, you may want to take advantage of other ways to incorporate live streaming events in the future, with web streaming services such as:
Church live streaming solutions
Creative live streaming
Live sports streaming services
Instruction and training live streaming
Concert and performance live feeds
Contact us today for all the details.
Do you have questions about Wedding Live Steaming in New York or New Jersey? Would you like to schedule an appointment with nationally recognized, best rated NJ based videographers and wedding photographers? Please contact our wedding live experts for a FREE consultation.
During your initial consultation we offer a wide variety of photography and videography samples including Indian Wedding Videos, Bar Mitzvah, Sweet 16, Anniversary Video and discuss pricing options. We offer photo and video package discounts.