Real Time Corporate Video Broadcasting on the Web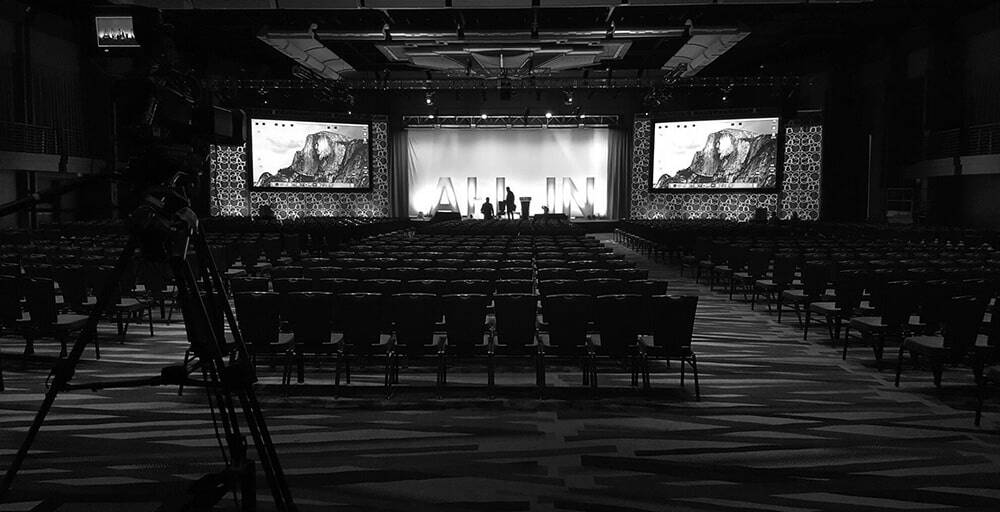 Corporate live video streaming is more than a passing trend; it's here to stay. It presents a perfect storm of opportunities for businesses due to:
Technological advancements
Widespread internet accessibility
A broad range of devices that seamlessly stream live video productions
For small business owners on a limited budget and large global corporate structures, event live streaming services are the ideal choice to:
Increase your business's visibility
Expand your reach
Tap into new markets
Include all stakeholders
Save valuable travel time & expenses
Entice big-name speakers
Create unity in your teams
Boost morale and productivity
Go with the Pros
Corporate streaming may not be part of by your IT staff's skillset. And even though anyone can stream an event from a cell phone, you risk your professional edge with an amateur production. Instead, rely on the expertise of live stream companies for your live corporate video shoots. Choose New Jersey Videography with offices in Hoboken, East Brunswick, Hackensack and Fort Lee.
Live streaming companies know which platforms that work best for your corporate streaming needs.
They produce live streaming events with:
Multi-camera coverage
Real-time video editing using a professional mixer
Real-time professional titles properly displayed
Seamless transitions
Wireless microphones
Professional high-definition cameras
Cinematographic eye for detail
Creative filming equipment
Low-priced custom services
Drone technology when you need it
Security measures in place to ensure safe connections
The Purpose of Corporate Live Video Streaming
Corporate live video streaming can play an integral role in your overall business strategy. It's not something to do just because it's trendy. While the use of corporate streaming is exploding, employ it when it serves your overall strategic planning process. Some of the more popular uses for corporate streaming include:
Board and shareholder meetings, especially when members are spread out geographically
Training for employees in multiple locations
Company-wide meetings for employees
Workshops and conferences
The roll-out of new products or services
Emergency announcements
The internet connects people from all over the world. Anyone with a fast connection can participate in your event. With event live streaming services, you extend your reach, engage larger audiences and hold necessary meetings more often. Take advantage of the technological advancements and quality services of live stream companies like New Jersey Videography to further your strategic goals.
Benefits of Event Live Streaming Services
While you can't replace the immediate feedback and chemistry that occurs when people gather for meetings, conferences, training sessions and workshops, you can use web streaming services to enlarge your audience. Any in-person participants won't even notice the unobtrusive presence of the NJ Videography team as they work.
The benefits of adding an event stream to your company's communication toolbox include:
Get more bang for your buck. You save money when you don't have to pay for travel, lodging and meals for board members and employees to attend live streaming events. At the same time, participants don't lose time away from work and family. The cost of using top-notch video streaming companies like NJ Videography far outweighs the costs of getting everyone in one room.
Cut reaction time drastically. Live streaming for business is an ideal platform to send a message to employees or customers in real time. When bad news hits your company or when you have to deal with a crisis, you can reach your constituency — in real-time and in record time — which builds trust. Invite your constituents to hear good news announcements as soon as your message is ready, fostering loyalty.
Increase customer engagement. When customers are invited to participate in a live corporate video, they're more inclined to comment and take your message to heart. You can get more feedback by using a short event stream for current and potential clients than you could from countless surveys or other market research techniques.
Reach a targeted audience. Like live streaming wedding services, you can create corporate events that require an invitation with a code and password to access. You'll know who attends when they sign in. You'll be able to control the agenda and focus your meeting to those important participants. Planning an organized live video production is tantamount to running a normal meeting.
Provide content you can reuse and repurpose. Your experienced camera professionals at New Jersey Videography create a copy of your live corporate video that you can post on your website. Translate the verbiage into online copy to boost your site's search engine optimization (SEO). Edit valuable clips for future use in newsletters, company videos, social media and blogs.
Make training more accessible. By offering live streaming events, you can engage more clients and employees with tutorials and company training sessions without having to invest in a venue or travel. You're more likely to get positive buy-in when your training sessions don't interfere with normal, daily workloads.
Creative Live Streaming for Every Business
Use your live streaming events for serious business without outside interruptions. You set the agenda in advance with the help of your planning team. You control the environment with the pros at New Jersey Videography. Their videographers can provide ideas on how to have a little fun with creative live streaming because you may want to lighten up the occasion sometimes.
Introduce speakers properly with clear, accurate titles. Corporate streaming is just one specialty of New Jersey Videographers. Once you've experienced the power of live streaming, you'll want to take advantage of web streaming services for you or your staff for other events, including but not limited to:
Live stream wedding occasions to include everyone unable to attend the ceremony in person
Sport streaming for company competitions or personal matches and tournaments
Concert and performance streaming events as employee and customer rewards
Special speakers to motivate or inspire your teams
Creative live streaming for marketing and special announcements
Reach out to New Jersey Videographers today for more information about how you can join the growing field of companies making a difference with event live streaming services. It's not a trend; it's the next evolution in corporate communications.
Do you have questions about corporate streaming in New York or New Jersey? Would you like to schedule an appointment with nationally recognized, best rated NJ based live video production company? Please contact our corporate streaming experts for a FREE consultation.
During your initial consultation we offer a wide variety of photography and videography samples, discuss pricing options. We offer photo and video package discounts.
© 2022 NEW JERSEY VIDEOGRAPHY BY ALEX PERELMUTER