The Old Tappan Manor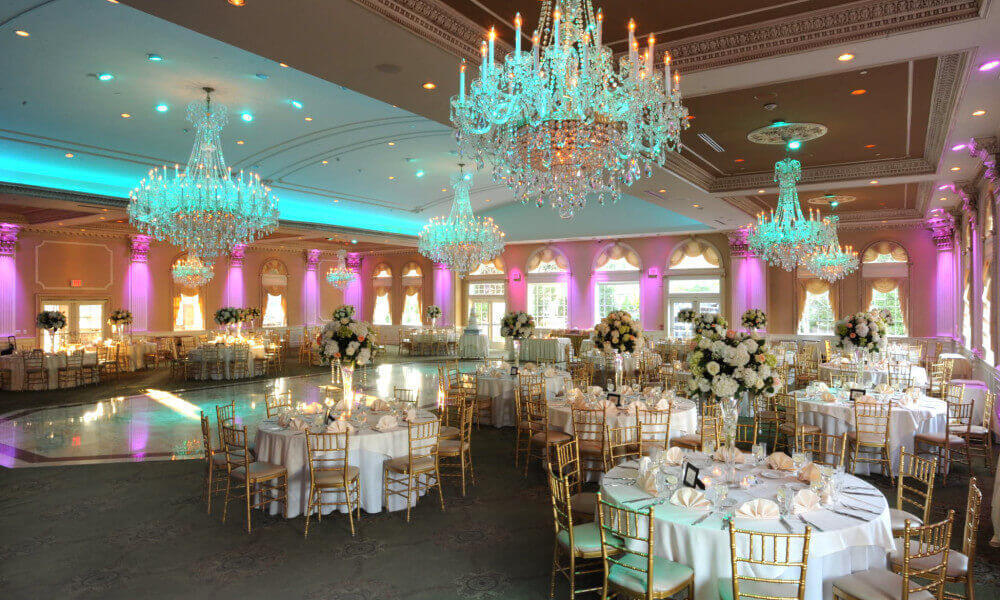 137 Orangeburgh Rd, Old Tappan, NJ 07675
The Old Tappan Manor commitment to excellence begins with dedicated and undivided personal attention to every bride and groom and their families. We offer you an evening that is exclusively yours.
From the moment your guests are ushered in the door, offered sparkling champagne and directed to the dark cherry wood finished bar which highlights the lounge area, the staff of the Old Tappan Manor is there to attend to every detail. Full service bartenders serving top-shelf liquors and fine domestic wines will also be happy to mix a "signature drink" of the bride and groom's choice. Reception chefs will prepare sumptuous delicacies during a cocktail hour so elaborate that it will flow from room to room.
The beauty of your surroundings
No aspect has been overlooked. The beauty of your surroundings is matched by an equally impressive menu and exceptional white-glove service. Our chefs will work with you to customize menus that meet your individual tastes and personal circumstances. We will create the perfect menu for you that is sure to please even your most discerning palates. Our banquet consultants, with their wealth of knowledge and expertise will guide you through the planning of your special day. We will introduce you to our hand-selected wedding professionals, who, through our years of experience, have proven to be the best in the business; offering you choices of exquisite décor, exciting entertainment and memorable photography.
Grand entrance as husband and wife
Your grand entrance as husband and wife, into a ballroom that is so breath-taking, is sure to become the one memory that lasts a lifetime. Your first dance on an inlaid marble and granite 900 square foot dance floor will showcase you as a couple, and, be ample enough for 290 guests to dance the night away. You'll dance below a beautiful ly vaulted ceiling and beneath the glow of eight cut-crystal chandeliers. This brilliantly appointed grand ballroom is surrounded by hand carved crown moldings, classic Roman-style fluted columns, intricately carved corbels and high arched Palladian windows. And through those windows, serving as a picturesque backdrop to the bride and groom table, is our illuminated twenty foot waterfall, set amidst romantic gardens and the perfect spot for your wedding portrait. If the soft muted beige tones of the ballroom are not part of your vision, then we can offer you the option of ambient lighting throughout the evening in colors to match your flowers, your bridesmaid dresses or the bride's gleaming eyes.
Our staff
Our banquet staff and culinary professionals are specialists in all fields of ethnicities, including Indian, Korean, Kosher and Glatt Kosher. Other amenities encompass, lovely ceremony space, your own comfortable bridal suite with private lavatory, a stone terrace overlooking our impressive gardens where guests may enjoy a cigarette or cigar, valet parking, votives and guests accommodations at nearby hotels. Your first visit to the "new" Old Tappan Manor is sure to convince you that you have found what will soon become the most sought after Wedding venue in the tri-state area. Allow us to introduce ourselves to you, once again, and offer you the opportunity to catch a rising star.
Real Weddings
Below is New Jersey Videography Video Gallery of real weddings that took place at The Old Tappan Manor.
---
Please feel free to take a look at video highlights we shot at The Old Tappan Manor.
---
© 2022 NEW JERSEY VIDEOGRAPHY BY ALEX PERELMUTER